Just like a family.
Well, some of us actually are a family.
A family first, people before profit kind of agency that wants to leave the world a little bit better than when we found it.
Sam Raife
Co-founder and Managing Director
Dad to one awesome and joyful boy, Benji. Sam is a marketing strategist with a passion for challenger brands and SMEs. With over a decade in search optimisation, his SEO First approach is the driving force behind creating digital campaigns that achieve explosive results on tight budgets.
"I've always loved being part of the driving force behind small and medium-sized enterprises, specifically their growth and success. We set Brand Ambition up to give companies access to better and more professional marketing delivery. From working with sales and marketing teams to create more effective digital solutions or working with the owner to give them more time back to focus on building their business.
Robin Hetherington
Co-founder and Creative Director
A big family man, Sams Uncle and experienced creative. Using a cliché, Robin has forgotten more about advertising and branding than most of us learn in a lifetime. From managing director of GCAS, a sixty employee, multi-million-pound revenue agency based in Belfast to Co-founder of Brand Ambition, Robin brings with him a wealth of knowledge alongside an attention to detail and drive that has defined a series of globally recognised brands.
"Creatives who are passionate about SEO and SEOs who are passionate about creativity"
Dylan Comyn
Digital Executive
Dylan has been with Brand Ambition since the beginning, a Blackburn Rovers and Beatles fanatic, he supports the team to deliver content, SEO and execute the planned marketing strategies. With a background in Retail & Ecommerce Digital Marketing, Dylan makes sure our campaigns are consistently moving in the right direction and delivering beyond the expected results.
"Working with such a talented and experienced group of people means that every day I can learn from others by listening to their ideas, getting honest feedback on my own and working collaboratively, which helps us deliver the best possible results for our exciting range of clients."
Myles Doncaster
Content Creator
In his spare time, Myles has a YouTube following of over 30k subscribers. At Brand Ambition Myles knows the secret to making campaigns explode with viewers and visits. As a content creator, his role is to make things look pretty and bring the vision to light regardless of the medium or format. From Videos to pamphlets Myles works diligently and reliably to support campaign output.
Why Brand Ambition?
"Need a job and money to live."
Megan Hayward
PR and Content Manager
Co-founder of Hull sensation Revival Coffee and Donuts and self-professed "Donut Slinger", Megan knows what it takes to build up a successful local business with a focus on creating demand through social media, content creation and PR. At Brand Ambition, she is responsible for ensuring our clients stay on message and get noticed in their target publications.
"Brand Ambition allows me to work in a flexible environment that focuses on work-life balance, all whilst having the full support of working on my personal career growth."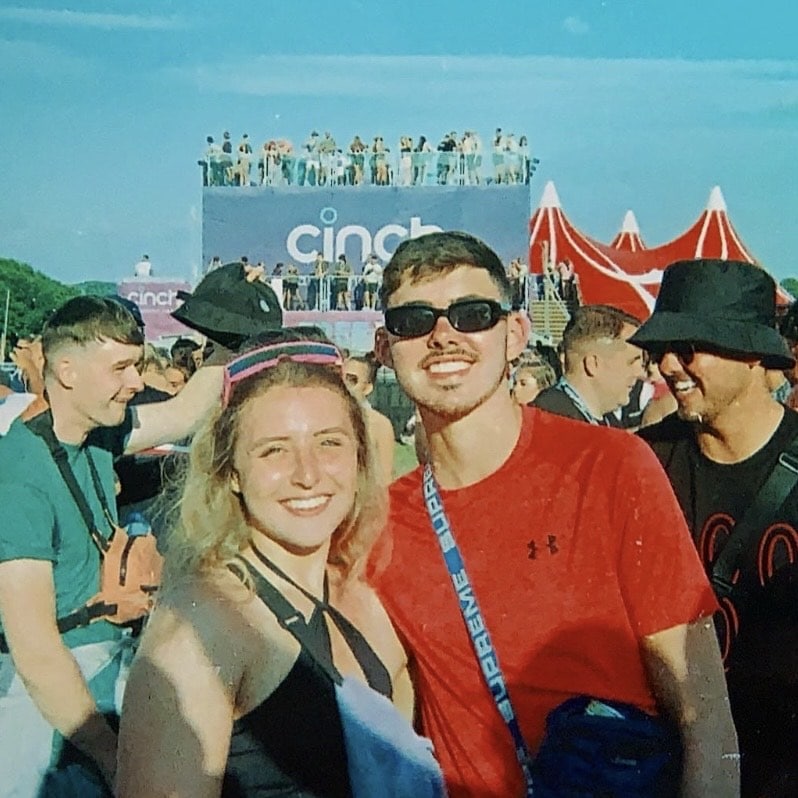 Ben Crofts
Junior Designer
One of the newest members of the team, Ben has recently graduated from Northumbria University with a first-class honours degree and has worked on projects for the NHS, Leeds United and Boost Energy. Outside of work, Ben has spent time volunteering with the Heritage Trust and is a huge movie buff!
"I wanted to join a company which really allowed me to learn and grow from the people around me, and with the team's years of experience in the marketing world, it felt like a great fit!"
Amara Relf
Content Creator Apprentice
Amara has joined the team as our first apprentice and has most recently graduated from University with a first-class honours degree in Law with Forensic Science. Amara is incredibly creative and, after a summer interning with Mother through The Creative Network Mentor Programme, Amara decided to embark on a Content Creator apprenticeship and join the team at Brand Ambition!
"After my law degree, I wanted a career more creative and fun, but also to work for a company where their morals aligned with my own!! Brand Ambition fit these criteria!! "
Achieve your ambition
Let's go grab a coffee. We've got a lot to talk about. It's time to Excite. Ignite. and Explode. your business into reaching your ambitions.
Contact me on Sam@Brand-Ambition.com