TL: DR
Aldi uses social to disrupt M&S website traffic using strategic Social Media & SEO tactics.

Aldi isn't a plucky underdog, it's way bigger than M&S in the grocery market and has essentially been bullying them for years.

We answer the question on everyones lips. Is Colin the Caterpillar more famous than Niall Horan?

Aldi hasn't won every battle. M&S held its own last Christmas.

Aldi doesn't just do this to "Big Brands", it constantly copies products leaving small businesses out of pocket

These small businesses tend to be set up to do good in the world, rather than solely set up to make a profit.

At Brand Ambition, we think that is bad…

Aldi has a long-forgotten history of spying on staff, funding North Korean nukes and drug smuggling.
It's not lost on us that the #FreeCuthbert marketing stunt has generated a powerful amount of positivity around the Aldi brand, whilst also successfully showing up a rival.
As a piece of honest marketing and brand building, it has gained national interest, in the way that only large brands on social media can.
Aldi bullies Marks & Spencer into submission with social media…but at least M&S is big enough to fight back.
What's disappointing is that it is another example of elitist brand building that damages small businesses and widens the gap between brands with a social conscious and those that, well, don't.
Marketing campaign success aside, Aldi is a market-dominant bully, that is seemingly flouting copyright legislation (it's a very complex issue, one which we aren't qualified to comment on) to generate additional market share, kicking a traditional Yorkshire brand when it's already down.
Nielsen Grocery Market Share Data – 2019
Live Kantar GB Grocery Market Share Data
Whatever data you use to define Grocery Market Share, it's lucky for M&S that it has a strong & loyal customer base with a renewed online presence, boosted by Covid technology adoption, otherwise, this attack on its brand trademarks might drive its illusion of affordable quality back to the days before the 2006 launch of: 'This is not just food. This is M&S Food'.
Consumers see Aldi as the plucky underdog, fighting against the "establishment", aligning itself with brands such as Brewdog and taking pop-shots at established traditional brands like M&S, but in reality, it's a global brand that gives consumers what they want, cheaper products at the highest possible quality.
Let's weigh up how Aldi has been taking pop shots at M&S for a while.
Starting with Search Volume and Google Trends, we can see that in the last 7 years, Aldi has won the demand all year round, even Christmas, since 2016.
But this wasn't enough for Aldi, its continued to belittle M&S on everything it does.
In fact, since 2016, according to SEMRush data, Aldi has seen Organic keyword growth of 1,347%.
Moving from 22,500 keywords in the top 100 to over 335,000 ranking phrases. Its move to create disruptive marketing campaigns that focus on products has led to a direct increase in Organic search recognition. As an SEO tactic, it's been pretty flawless.
Three times Aldi has outright attacked M&S in a scrap for marketshare.
#Freecuthbert & #CaterpillarsforCancer
The moment that inspired the nation to free a cake recipe and wrestle the ownership away from M&S, which included a series of tweets including:
This is not just any court case, this is… #FreeCuthbert

— Aldi Stores UK (@AldiUK) April 15, 2021
Followed by another (albeit hilarious) attack on the brand.
Marks & Snitches more like. #FreeCuthbert

— Aldi Stores UK (@AldiUK) April 16, 2021
If you thought this was just harmless banter, then you don't know the power of Colin for the M&S website.
Data from SEOMonitor shows that "Caterpillar Cake" has 178 Keywords in the phrase cluster driving 610,000 searches per month.
Phrases that include "Colin" and "cake" has a massive 243,000 searches a month.
To put that in perspective popstar Niall Horan only gets about 100,000 searches a month. So is Colin the Caterpillar more famous than Niall Horan?
Yes. Yes he is (according to SEO Monitor)
Pre #FreeCuthbert M&S was dominating the SERPs on this phrase. It drove huge amounts of traffic for the brand, which ultimately drove sales.
As you can see from the SERPs before #FreeCuthbert, Aldi isn't even on the list. Its cake was going relatively unnoticed and certainly wasn't helping them drives sales. Then post-campaign, the SERP is now dominated by Aldi and the search volume according to Google trends has seen a 900% increase.
What is seen as a piece of reactive social media, will have long-lasting impacts on traffic to the M&S website.
Good to know: This isn't an actual snapshot of the SERP, but it is the SERP using the "time" feature to pick on a particular day.
The Identical Drinks Trays
In November 2020, Aldi went after the M&S home market, by creating a popular duplicate of a Mirrored Drinks Tray.
The power of the PR around this piece has pushed Aldi on to the first page rankings for the phrase "Drinks Tray", which gets around 4,400 searches a month & has ensured they now dominate first and second for the phrase "Mirrored Drinks Tray".
The kirkton range has generated over 200 linking domains since launch, helping their entire home section and special buys range to continue the organic uplift on the website.
The fight for "Gastropub"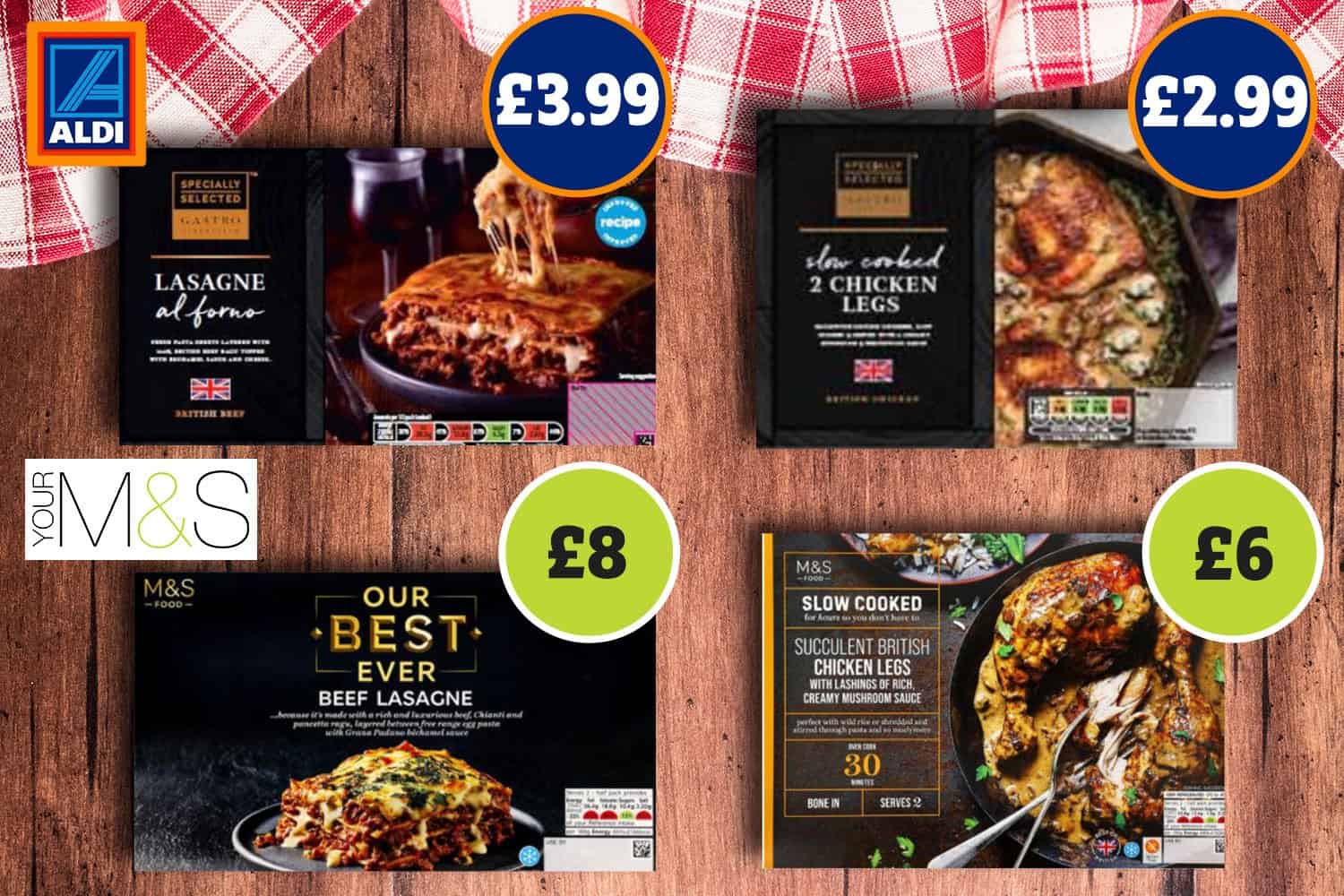 Believe it or not, M&S has won this battle. The range launched in time for Christmas competed directly against M&S food items and undercut the price on every one.
Despite the blatant attack on their Gastropub range, in terms of the other Aldi campaigns, M&S has fought this one off…for this year.
When we look at terms that drive monthly search volume according to SEMRush we get over 199 suggested terms that include "M&S" and "Gastropub", with a monthly search volume of 4,370.
Aldi launched under the name "Gastro", but there are only 5 keywords with a total monthly search volume of 20 for "Aldi" and "Gastro".
Incidentally, the most searched for is the M&S Chicken and Leek Pie with 880 searches a month, so in terms of the products Aldi was competing with, the company clearly didn't do its keyword research before hand as they didn't have a competing product here.
Newspapers reported at the time: "According to Aldi, the collection costs almost 50 percent less than the M&S alternative, with prices starting from £1.99 and meal pairings coming in at less than £10 for two. Gastro dishes include Slow-cooked Texas BBQ Brisket, juicy Salt and Chilli Rib Rack, and Mac & Cheese with Pancetta."
Sounds delicious, but this round goes to M&S
So…does it matter?
Big brands picking on big brands is part of the game, and we get that. In fact, the boost to a smaller brand, by being recognised by these bigger brands can drive awesome awareness and sales.
Look at the case of Brewdog…
It's amazing what a beer can do to bring people together x https://t.co/uwCm5rmZTx

— Aldi Stores UK (@AldiUK) March 22, 2021
Brewdog got national press and nationwide support as a result of its direct attack on the brand, but the important thing here is that Brewdog had to instigate it and Aldi, despite purposely ripping off and stealing sales from a growing company, get away with appearing like it is doing everyone a favour.
At Brand Ambition, we love an underdog story. We love a brand that challenges, that rises above the fold and takes market share from the dominant players.
We love it, even more, when that brand brings others with the same values along on the journey but is that what Aldi is doing? Or is Aldi bullying smaller brands into submission and driving the market value down to the benefit of itself…and its customers.
For Brewdog, this wasn't even the biggest thing it did throughout the year to push its brand forward as this Google trends graph shows.
In fact, the biggest story and best marketing campaign for BrewDog was this one…
The rumours are true, we're giving away free beer!

We're giving everyone in the UK a free 4 pack of our amazing new beer, Lost Lager

Find yours ? https://t.co/3EjYdpGi3e

Lost is the world's only carbon negative lager – we'll plant a tree in our forest for every 4 pack claimed pic.twitter.com/XdI79kBMyf

— BrewDog (@BrewDog) January 9, 2021
In other words, Brewdog was pre-committed to doing good in the world. Another clear example, of this, was December 2020, when its reactive PR helped them come up with the idea of utilising their venues as vaccination centres
Vaccine update: We are in now talks with the Minister For Vaccine Deployment @nadhimzahawi & @NicolaSturgeon

We have offered all @BrewDog bars to help with a quick roll out of the vaccine. For free.

We have waiting areas, huge refrigerators & ace people who can help organise. pic.twitter.com/lRRd8uYuTC

— James Watt (@BrewDogJames) December 31, 2020
The Aldi campaign might have helped with additional recognition, but the fact is, Brewdog didn't need a large supermarket giant, stepping on its market share to make it do some good in the world and get its message across, it was already doing it.
Aldi, in this case, was simply stealing intellectual property from a brand that has worked hard to differentiate itself in a crowded market place.
Four times Aldi has stolen ideas from small companies and left them high and dry
Heck Foods – Chicken Italia Sausages
The family-run business, grown from farmers markets accused Aldi of copying its award-winning chicken Italia sausages. The founder of Heck, Andrew Keeble, labelled the supermarket a "parasite" after Aldi launched a similar looking chicken chipolatas. He went on to say: "Our customers kept getting in touch to say that Aldi is ripping-off our products and they're not the same products." He added, "It's deceiving to our health and fitness audience."
When Heck contacted Aldi and asked them to stop selling the knock-off products, they were handed a "threatening legal letter".
The Collective – Gourmet Yoghurt Range.
The Collective also accused Aldi of copying its brand. Aldi launched a luxury yoghurt range called Moo!, bearing a striking resemblance to The Collective's gourmet yoghurt at half the price. Amelia Harvey, co-founder of The Collective, said customers had been in contact to say they felt 'duped'. "Aldi is deliberately trying to use the cues of successful brands to fool consumers in to buying them," she said. "Our brand has taken seven years to tirelessly build by a small team. In one fell swoop Aldi has taken that brand value and used all our cues to cause consumer confusion."
Speaking to The Grocer magazine, Aldi UK & Ireland chief executive Giles Hurley denied it was copying brands. He added: "What we do with our exclusive brands is identical to what the rest of the market does with own label, which is to draw cues and make products easily identifiable for customers without seeking to copy."
Vita Coco coconut oil
Aldi undercut Vita Coco coconut oil by 75%. Leaving the company with no option but to ignore the new challenger in its market. The company was set-up to support the farming communities that supply the raw materials for their products.
Charlie Bigham's Ready Meals
Aldi decided to make its own version, but it made them bigger and sold them up to 43% cheaper. Julie Ashfield from Aldi said that the low cost of the new ready meals will allow customers to make "substantial savings on luxury equivalents without having to compromise." Charlie Bigham's is a B Corp, focusing their business influence for good, funding projects like City Harvest. Beating Bowel Cancer and Magic Breakfast an organisation that helps feed over 48,000 school children.
So…
Social conscious matters. Aldi's flippant social media campaign #caterpillarsforcancer is using a good cause to mask doing something immoral. This time, it's M&S, next time it's your favourite local independent.
Hey @marksandspencer can Colin and Cuthbert be besties? We're bringing back a limited edition Cuthbert and want to donate profits to cancer charities including your partners @macmillancancer & ours @teenagecancer. Let's raise money for charity, not lawyers #caterpillarsforcancer.

— Aldi Stores UK (@AldiUK) April 20, 2021
Aldi has a long-forgotten history of spying on staff, funding North Korean nukes and drug smuggling amongst other scandals. So let's stop pretending it is the plucky underdog.
From our point of view, the big brands can create entertaining Twitter conversations all they like, just stop stealing ideas from hardworking brands creating quality products, that are doing good in the world by driving a social conscious.
There is a reason some products are more expensive, it's because they aren't trying to rip off everyone in the process of it being made.
#LocalSupportingLocal #SupportLocal