For a business that prides itself on serving the local community, the location of the premises, and more importantly, customers knowing where you are based is what you rely on most for sales. 
Studies have shown how consumers' habits have changed, accelerated in part due to the Covid-19 pandemic, with more of a focus on shopping locally to support smaller businesses. 
To inform their decision on where to shop, most people turn to Google to find out where to go. But what if your business isn't appearing when the search is made? 
To capitalise on this shift in shopping trends, local businesses can use their Shopify e-commerce stores to create local search engine optimisation (SEO) strategies that will push your business up the rankings on Google. 
When Google identifies a website, it uses an algorithm to determine what searches it should appear under. When someone performs a local search, Google considers three main components: relevance, prominence and proximity.  
These three key components will cover all the bases for the consumer. This will mean that the search results are appropriate, the business has Google's unofficial seal of approval and can be easily discovered, standing out to the searcher. 
But what are the steps that you have to take to put your business in these high-flying positions in a local search? Below are a few tips that are quick and easy to implement that will set you and your business on the way to local hero status.
1. Optimise the website.
Although the whole process of optimising a website can be a complex and time consuming one, the wide range of tasks means that there are plenty of basics that are quick and easy victories that will provide instant improvements.
Below are some tips and actions that you can do that will help optimise the site:
Google recognises the structure of a website, and by conforming to what it understands will help build the prominence and authenticity of your website. For this, you have to complete some keyword research – something that will be touched on a little later on in this article. 
By making sure that everything from your website header to title and meta descriptions are populated in a consistent style, with the targeted keywords, will reinforce the site. 
Add name, address and phone number (NAP) to the HTML of the website.
This simple yet effective step will help hugely with your local SEO. By having consistent information across the HTML of a website, as well as on your find us page, social media channels, Google listings and any other directories. 
Build relationships for local backlinks.
A huge part of optimising your website for search engines involves help from third parties. By building good relationships with local bloggers, journalists – and even other businesses – you could explore the option of building backlinks by pitching any content or interesting stories that you have. Every time a website shares a link to your website, this provides reinforcement that is recognised, further improving your status. 
Tying in with building backlinks, this is essentially arming yourself for a pitch for the local bloggers and journalists that you feel worthy of telling the local community about. To get an idea of what sort of stories will work in your area, get to know what sort of things the local journalists like. By understanding what individual people like you can tailor your pitch accordingly for them. 
2. Do the relevant keyword research
When trying to rank higher on Google, one thing to remember is that you are not trying to be unique in your strategy. Look at your local competitors who are leading the way and identify what they are doing.
A good place to start is to do a search as if you are trying to find your website. Once you have done this, find websites that were in the top results and study their web pages. Identify their URL structure, titles and meta-descriptions.
There are a variety of free and paid search tools available that will give you even more insights and data on keywords. 
One of the best ways of understanding what ranks best with Google is by just starting to type keywords and phrases into the search bar and noting what suggested searches are coming up.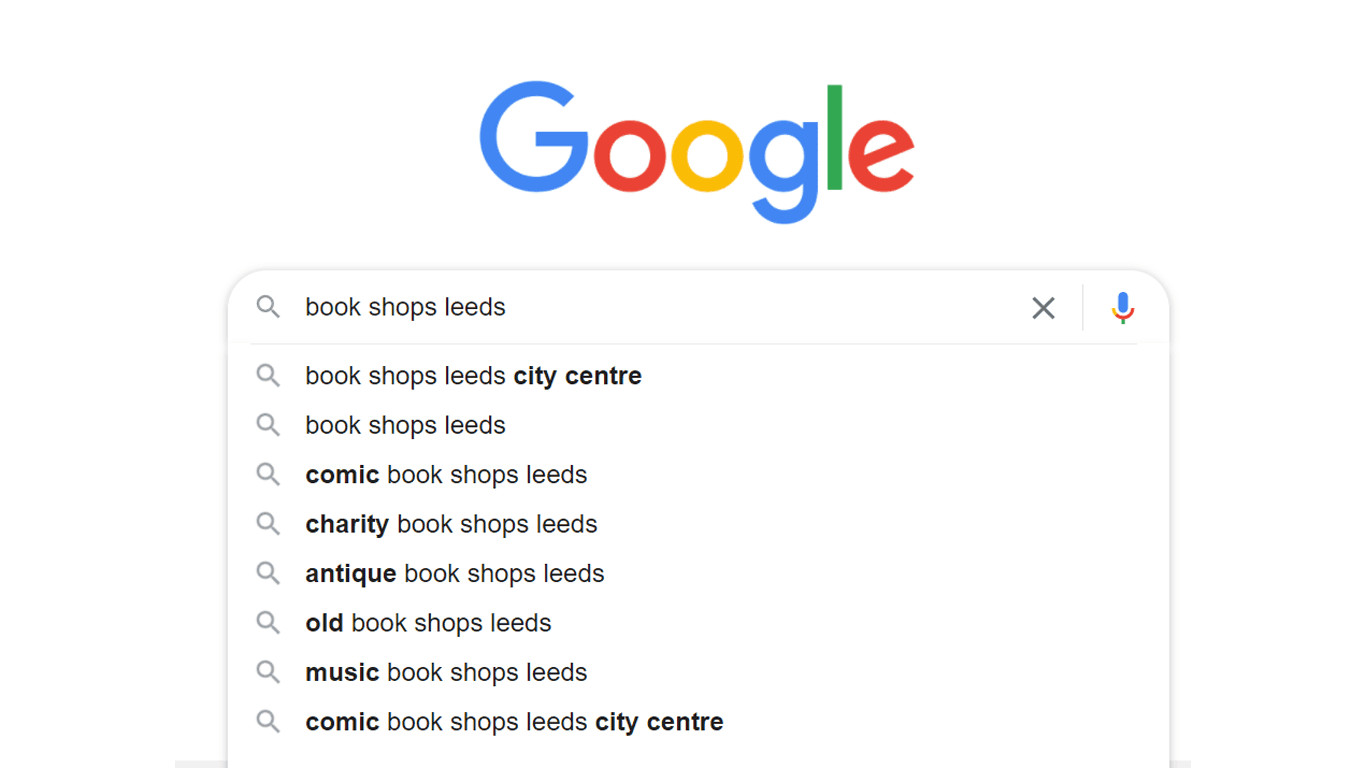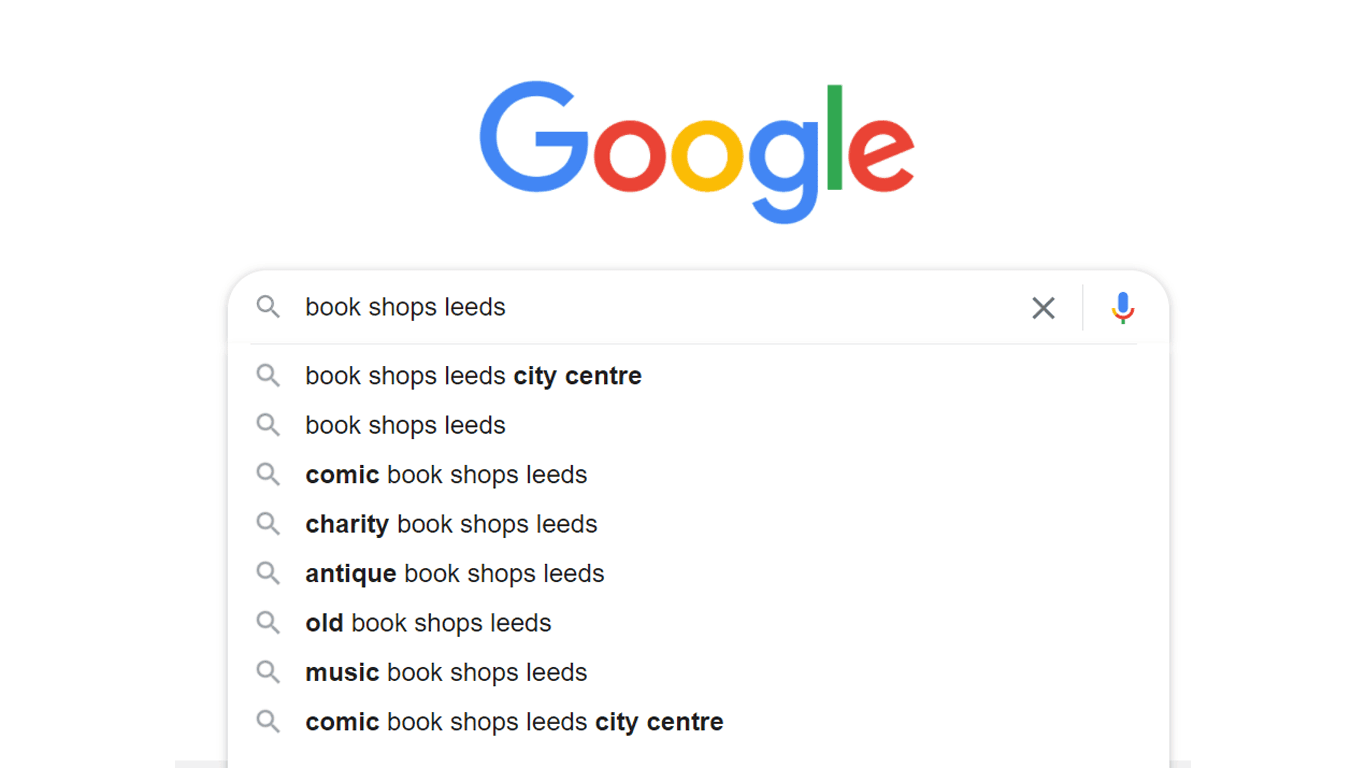 Another important thing to remember when strategising your keyword targets, is to understand who you simply can't compete with. Larger organisations will always have the advantage to outrank you. This means that the keywords with medium to low competition are easier to rank on. 
3. Get listed on Google
This is something that all new businesses should look to do almost immediately after its formation. 
Using the Google My Business application, this free service is straightforward and easy to populate, allowing you to create a listing to your company that has a link to your website, the opening hours, your location on a map and other extras.
Having this listing set up will further authenticate your online presence, by actually having a pin on the map. The resulting listing will also give the customer all the information that they need at a glance, improving their trust in you. 
And furthermore, there is a wide range of other directories and websites where you can list your local business that will benefit in different ways, providing backlinks as well as having your information listed on other websites. The more you get your name out there, the more likely it is that someone is going to find your details. 
4. Reviews
Everyone has experienced reading reviews and knows what their benefits are. And this is backed up by data from studies.
It found that as many as 57% of people use Google primarily to find other people's experiences and reviews of a particular business. As the reviews can be posted by anyone through an open forum, this also improves the trust customers have towards them – much more so than if it was a business telling them how great they are.
The main problem is getting people to actually leave reviews. The best way of getting people to leave a review is to actively encourage them to. This can be done in a variety of different ways; by email, on social media or even in person. 
Should you start with this strategy and struggle, you could even try and incentivize it. Could you include an offer for customers who leave a review? Are there any other exclusive products or services that you could give people priority access to?
The benefits of having good reviews on the surface are clear to see, but they can also have a positive effect on your SEO rankings.
Good reviews are recognised by Google, as it uses them as a signal as to what people think of your business. Additionally, having these positive reviews that are easy to see on Google can increase your click-through rate, build social and local engagement and improve your rankings for the targeted keywords that you have already researched.
5. Social Media Check-Ins
Although a smaller cog in the wheel, this job could be seen as a longer-term project. But by having your location set up within the accounts, will make your outreach in the local area extremely wide.
Every time that someone checks in to the location of your business, it reinforces the link between company and address. The more check-ins you have, the more authentic you become and pushes your business ratings on Google up.
Similar to leaving reviews, you are probably going to have to ask people to check-in rather than relying on them to do it without prompting. 
Depending on your business, some may face a challenge to get a check-in, as it is down to customer in-store experience. However, there can be ways to incentivise this.
One way would be to offer promotional offers and products. You could even offer to donate money to charity every time a milestone number of people check-in.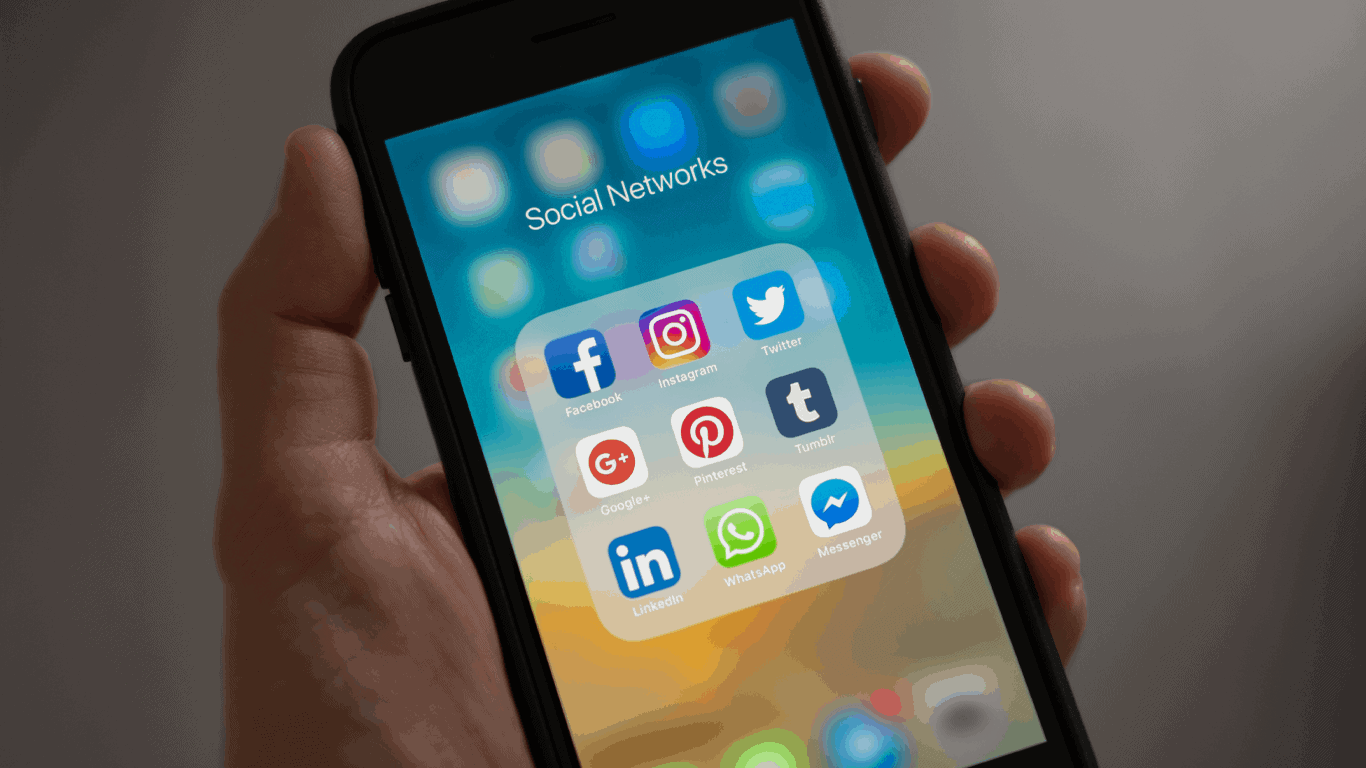 All of the above fundamental tips are quick and easy to implement, but the main thing to be aware of with any SEO strategy is to constantly monitor your results.
Things may take a little bit of time before you see an impact of your changes. There are naturally going to be short and long term 'wins'.
By actively staying on your toes and keeping an eye on local competitors will give you the sought after visibility on Google.